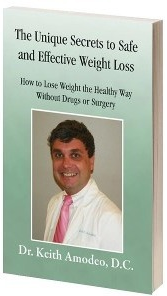 Dr. Keith Amodeo, DC Is A Nationally Published Author & Weight Loss Expert
Lose Up To A Half Pound A Day... Safe & Easy
Be One Of The First 7 People To Make An Appointment This Week And You'll Receive Dr. Keith's Book FREE And A No-Cost Consultation ($127 Value) With Dr. Keith.
Your Information is 100% Secure And Will Never Be Shared
With Anyone
Setup Your Button
6

DAYS

22

HOURS

41

MINS

1

SECS
How Much Weight Have Patients Lost? Watch!!
Tabitha Is Thrilled With Her Success
Welcome To Collierville Weight Loss
Our supervised weight loss program consists of an all

natural supplementation, easy to follow food management plan and the state-of-the-art fat melting Red Light Laser Therapy, complete with in-house sessions. He's also available for any follow-up questions during and after each procedure, with plenty of expert advice on reaching long-term weight loss and fitness goals.
Abby Has Lost
50
Pounds So Far!
Dr. Keith Amodeo With Abby
From KIX 106
SAVE 10% On Our Weight Loss Program
A Customized Safe, Natural
Weight Loss Plan For You!
(Up To $300 Savings)
EXCLUSIVE To
Collierville Weight Loss
Red Light Laser Therapy
(Watch Video)
Red Light Laser Therapy Helps to Literally Melt Away Stubborn Belly Fat.


A study in the Journal of Obesity Surgery

researched red light therapy for body contouring.This double-blind, randomized study performed light therapy on participants for four weeks and recorded effects on the waistline. At the end of study, participants had

achieved a statistically significant reduction in waistline girth

.


Watch As Doctor Keith Amodeo Demonstrates The Red Light Laser.
Do You Want To Lose
A Dress Size Or Pant Size?
DON'T TAKE OUR WORD FOR IT
SEE WHAT OUR PATIENTS ARE SAYING ABOUT THEIR OWN SUCCESS
Ben Ferguson
Radio Talk Show Host
I'm on track right now to lose between 40 and 60 pounds. I needed a program that could work with my lifestyle.
(Listen To Ben Share His Success)
a
Abby
KIX 106 Radio Host
I have lost 47 pounds!
Steve & Kathy
Husband & Wife
We did this together and together we have lost over 115 pounds. This is Great!
WE'RE SUPER EXCITED FOR THE SUCCESS OUR PATIENTS ARE HAVING
PATIENTS SHARE HOW TO LOSE WEIGHT IN MEMPHIS WITH DOCTOR KEITH AMODEO ON GOOGLE
ALEXIS N
I feel amazing after working with Dr. Keith. I am down 33 pounds in 3 months and my A1c is down to 5.4. I could not have done this without Dr. Keith and his patience, knowledge and support.
Jeffrey R
Very happy with Dr. Keith and his staff. I've done his program and have lost 25 pounds in 3 months!
Setup Your Button
SCHEDULE NO CHARGE CONSULTATION
Are You Serious About Losing Weight?
You can virtually melt away your FAT without strenuous dieting or excessive exercising. This is the best weight loss secret to come along in years – when you're talking about FAST EFFECTIVE weight loss.
HOLD ON!!!


You might be afraid the "solution" will be worse than the problem, but let me assure you, it's not! When you schedule an appointment you're going to receive something that NOT only helps you lose weight, but also helps your appearance, your face, your complexion and even your body structure.
Listen, I am a regular practicing doctor in Collierville, and I love helping people, just like you, lose that stubborn weight, without dieting, and then how to keep it off – permanently


Here Is What I Can Do For You


CALL The Office NOW! You won't have to make any radical changes in your lifestyle with this program, … have surgery, or take any harmful drugs.
Your treatments are private and you will start to lose 1-2 pounds per day, depending on your size, age, condition of your body and follow through.
You will consult with me personally for follow up and questions. Once you've reached your desired weight, you'll have your shape back, have more energy, and you'll have your self-esteem back.
Doesn't get any better than that!!
Safe & Easy!
My exclusive weight loss management system is completely SAFE and has been proven to work. It is based on scientific principles that cause almost immediate changes and is strictly administered along common sense protocols.
Here's what most people don't understand. When you're heavy, you lose your strength, vitality, and you can become feeble. And on top of that you can age prematurely because your "fat" cells clog your body's vital organs. That will change after you start utilizing this system. You may be like some people who have lost their figure due to this "fat" clogging weight gain.
The problem is, most overweight people are unable to find a simple, easy to follow system to reduce their fat and then keep it off. Even their coordination, daily movement and attractiveness are destroyed with this weight gain.
That will all change when you start using this system.
Dr. Keith Amodeo Talks To Patients About Their Weight Loss Success
Setup Your Button
SCHEDULE NO CHARGE CONSULTATION
Dr. Keith Amodeo has been the featured expert on WMCTV 5, Fox 13 Memphis, ABC 24 Local Memphis. His expertise is sought all over the Mid-south. You can view past shows on our
YouTube Channel.
Special Limited Time Offer
Lose weight and get healthy!


For a limited time Collierville Weight Loss is offering 10% off our safe, effective, natural weight loss service. This is an incredible savings of up to $300.

Now you can join the long list of people just like you that decided to take action and feel great again!