Watch Success Stories From
Our Patients Themselves
FREE SUCCESS CONSULTATION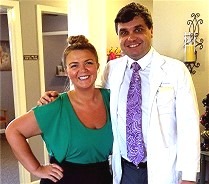 Everything You

MUST

Know Before You
Choose A Memphis Weight Loss Specialist!
Tabitha's Weight Loss
So Far Is 66 Pounds...
Tabitha's Weight Loss Testimonial In Her Own Words
"I said, if I'm going to do something I need to be radical and just go in and do it. When I first came in and talked to Dr. Keith we went over my goals and how I was going to get there. It was great! It was all laid out in front of me. One of the things I love about coming here is that he really taught me how to eat, how to really change my lifestyle, to live healthy. I'm not depressed anymore, I'm happy, I have energy to play with my kids and run my business."
Let Me Help You Like Tabitha